Welcome To
DPS, KATRA
Delhi Public School, SMVDU, Kakryal - Katra is a unit of Maharaja Hari Singh Social & Education Foundation Trust - (J&K) affiliated to the Central Board of Secondary Education (CBSE) upto secondary level under code no. 730052 and has also been functioning under the aegis of The Delhi Public School Society, New Delhi.
The school was started in the year 2005-06 to cater to the welfare of the society by imparting quality education. Delhi Public School, SMVDU, Kakryal-Katra is among one of the more than 150 Delhi Public Schools across India and abroad affiliated to the above said society. A sprawling campus in 5 acres of land is situated in the campus of Shri Mata Vaishno Devi University at the foothills of the Trikuta hills, the abode of the divine mother Shri Mata Vaishno Devi Ji.
It is 35 kms away from the nearest railway station of Udhampur, 13 kms from the bus stand of Katra and 45 kms from Jammu Airport. The curriculum at Delhi Public School, SMVDU, Kakryal-Katra stresses on creative, aesthetic, emotional, cognitive and motor development skills of the children, well-planned and innovative teaching methods as per CBSE Board guidelines. The school has state-of-art infrastructure with modern and well-equipped general science laboratory and computer lab. A library catering to the needs of all age groups is well-stocked with a variety of books.
The school has also made necessary arrangements for first aid medical treatment of the students in case of any injury or otherwise. In case of some major problem the school has also tied up with Shri Mata Vaishno Devi Medical Centre for treatment of the students.
Well-planned and well-ventilated classrooms provide a conducive atmosphere for the teaching-learning process. Besides the classrooms, the school has audio-visual room, music and dance room to bring out the hidden artistic talents of the students.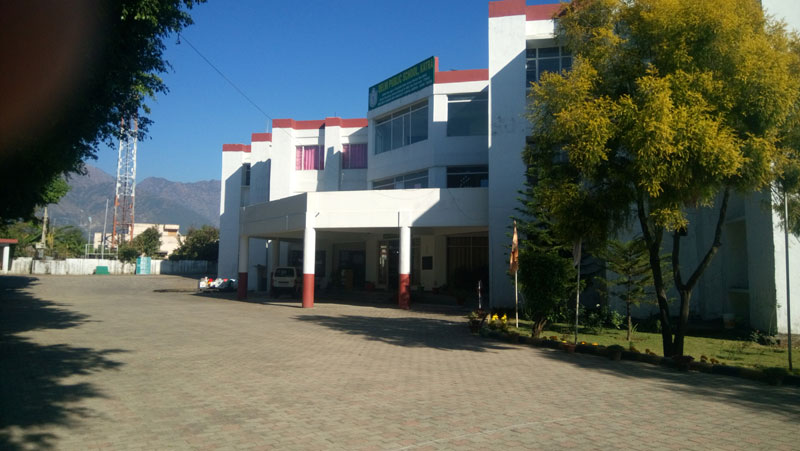 Sports and games form a part and parcel of the students' overall personality development. The school provides facilities in sports like Cricket, Football, Volleyball, Basketball, Skating, Table-Tennis, Badminton, martial arts like Taekwondo and also ensures the fitness of mind, body and soul through Yoga.
About 25 dedicated and committed teaching staff members impart quality education with right skills and a positive attitude, keeping in mind the Delhi Public School motto "Service before Self". In-service teachers' training programmes are held on regular basis to achieve the needs and challenges of rapid global changes in the educational system.
Students and teachers' participation at state and national level sports and other co-curricular activities to ensure competitive edge and professional growth of the students and staff.
We also depute our teaching staff and students to attend various workshops, programmes, and competitions as per the advice of CBSE and The Delhi Public School Society, New Delhi.
A well-organized transport facility comprising of eight buses cater to the needs of the students and staff of the school.
School
Information
Year of establishment
2005
Whether NOC from state/UT or recommendation of Embassy of India obtained?
Jammu and Kashmir
i. NOC No.
EDU/R-37-2009/J
ii. NOC issuing date
17-04-2009
Is the school recognized, if yes by which authority
Yes, CBSE
Status of Affiliation:
Provisional
i) Affiliation No
730052
ii) Affiliation with the Board since
03-02-2015
iii) Extension of affiliation upto
31-03-2020
Name of Trust/Society/Company Registered under section 25 of the Company Act, 1956. Period upto which Registration of Trust/Society is valid
Maharaja Hari Singh Social & Education Foundation Trust (J&K)
Name and Official address of the Manager/President/Chairman/Correspondent
Shri M. K. Ajatshatru Singh Hari Niwas Palace Jammu-180001
(i) E-Mail
dpskatra@yahoo.com
(ii) Ph. No.
01912578967
(iii) Fax No.
01912578967
Area of School Campus
i. In Acres
5.acres
ii. In Sq. mtrs.
20234.282 sqm
iii. Built up area (sq.mtrs)
2067.37 sqm
iv. Area of playground in sq.mtrs
13940.5 sqm
v. Other Facilities
a) Swimming pool
b) Indoor Games
c) Dance Rooms
d) Gymnasium
e) Music Rooms
f) Hostels
g) Health and Medical Check Up

No
Yes
Yes
No
Yes
No
Yes
Details of Fee Structure
Click here to view details (Class Wise)M
Transport Facility
Click here to view details
Particulars of teaching staff (to be updated time to time)
--
Details of Salary being paid by the school to teaching staff/non –teaching staff (to be updated time to time)
Mode of payment of salary
a) Name of the bank through which salary is drawing
J&K Bank
b) Through single cheque transfer advice
Yes
c) Individual Cheque
No
d) Cash
No
Library Facilities
Click here to view details
Name of the Grievance/redressal officer with E-mail, Ph. No, Fax No
Nil
Members of Sexual Harassment Committee
a) Mrs. Vandna Sharma
b) Mr. Raj Kumar Verma
c) Mrs. Savita Sharma
d) Mrs. Simmi Sharma
e) Mr. Dayal Ram

Section wise enrolment of school for the current session
---
Academic session period
From April to March
Vacation Period
From June to July
Admission Period
From January to March